A live performance to enhance your event
Renowned the world over, EriK BLACK creates a personalised work of glitter and speed painting right before your eyes, using its exceptional expertise.
An exceptional live painting show
A worldwide reputation for
exceptional performance
EriK BLACK has already produced more than 2,200 live enshow works. in France and in 24 countries around the world. These performances dazzle audiences around the world, from Paris to Tokyo, London, Athens, the Maldives and Dubai.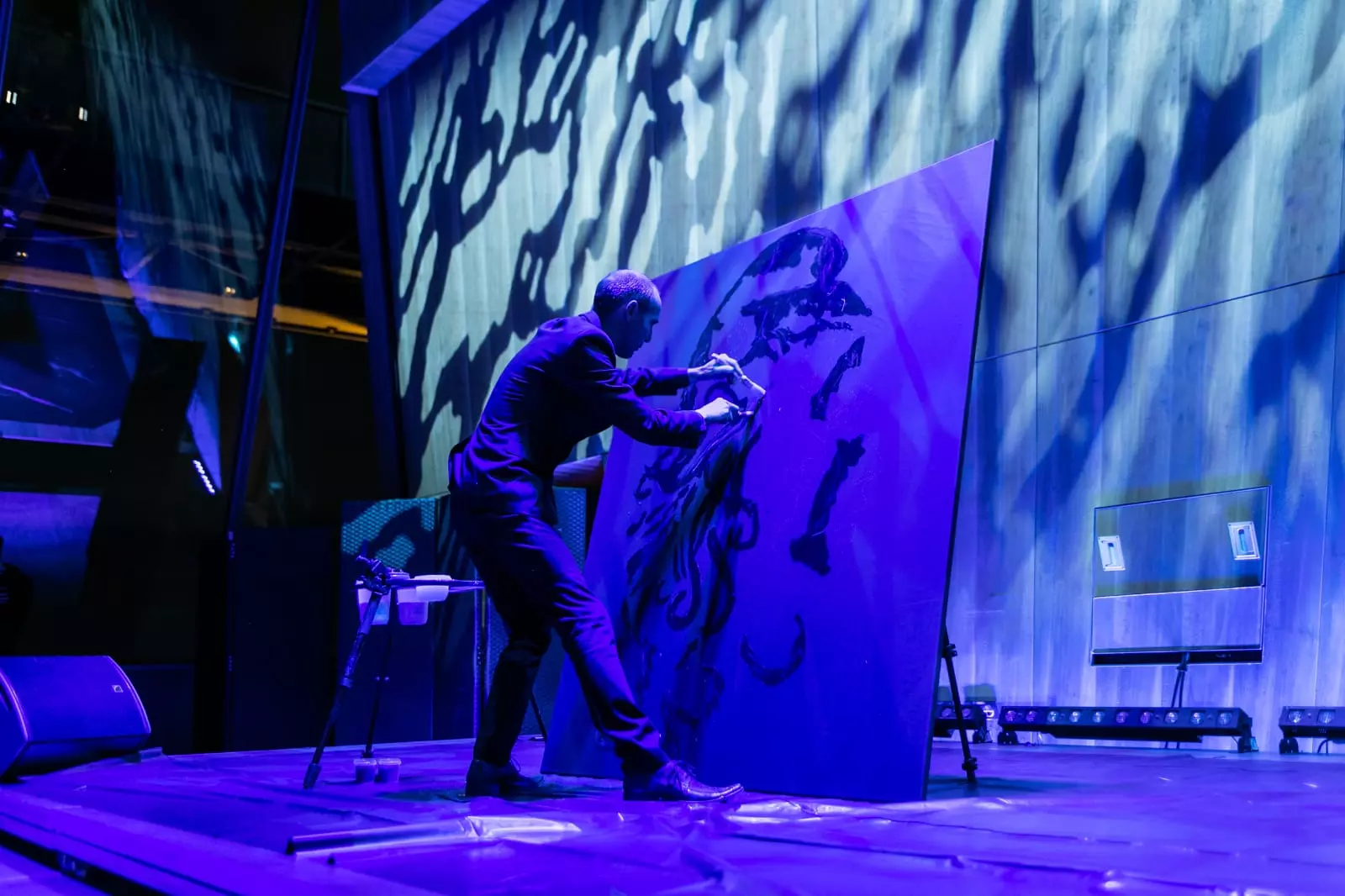 EriK BLACK offers you an unforgettable event that will leave your guests with unforgettable memories.
Each performance is very fast, averaging 5 minutes.
A live painting animation full of emotion
With our live shows, you can honour a VIP guest or the person of your choice! EriK BLACK offers you a personalised service or a choice from its catalogue of over 80 celebrity portraits.
Every show is an emotional experience.
An extraordinary artistic creation
The captivating world of EriK BLACK and his Glitter Painting technique
EriK is a French painter and one of the pioneers of Glitter Painting: glue + glitter. EriK offers you a unique and personalised experience for every event, with an original, customised staging.
Speed Painting & Glitter Painting performances
While Speed Painting reveals the work as it is created, the Glitter Painting shows keep the audience on the edge of their seats to unveil the creation in an impactful finale when the glitter is thrown.
EriK can offer you both techniques, depending on your requirements. It is also possible to programme the 2 at the same time as your event, for an even more powerful artistic performance.
A breathtaking visual experience.
One main objective: to create emotion
Every performance by EriK BLACK is an opportunity to move your guests. From the graphics to the staging to the music, the artist pays particular attention to the smallest details to create a sincere emotion that will remain engraved in our memories.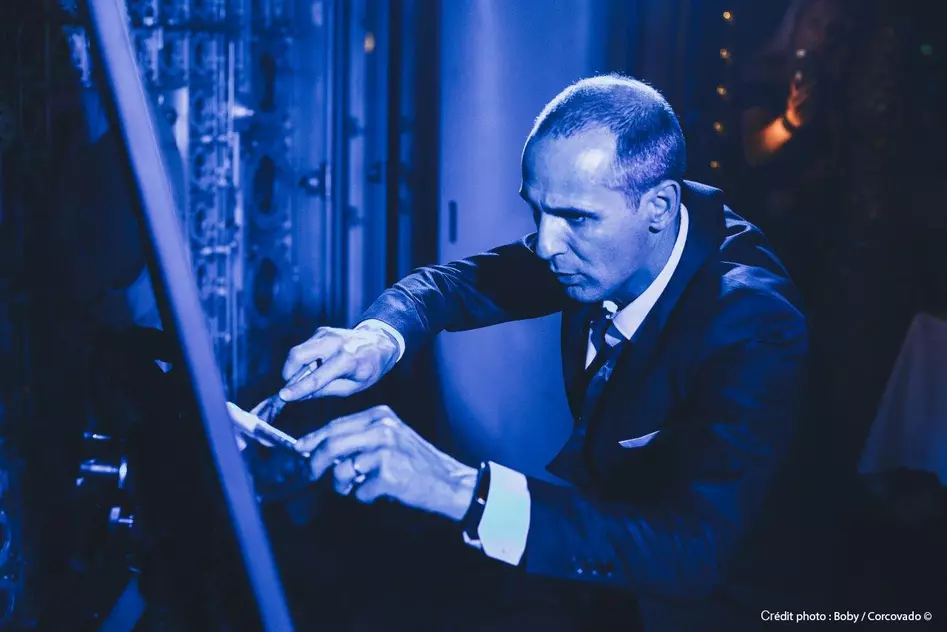 Book your live performance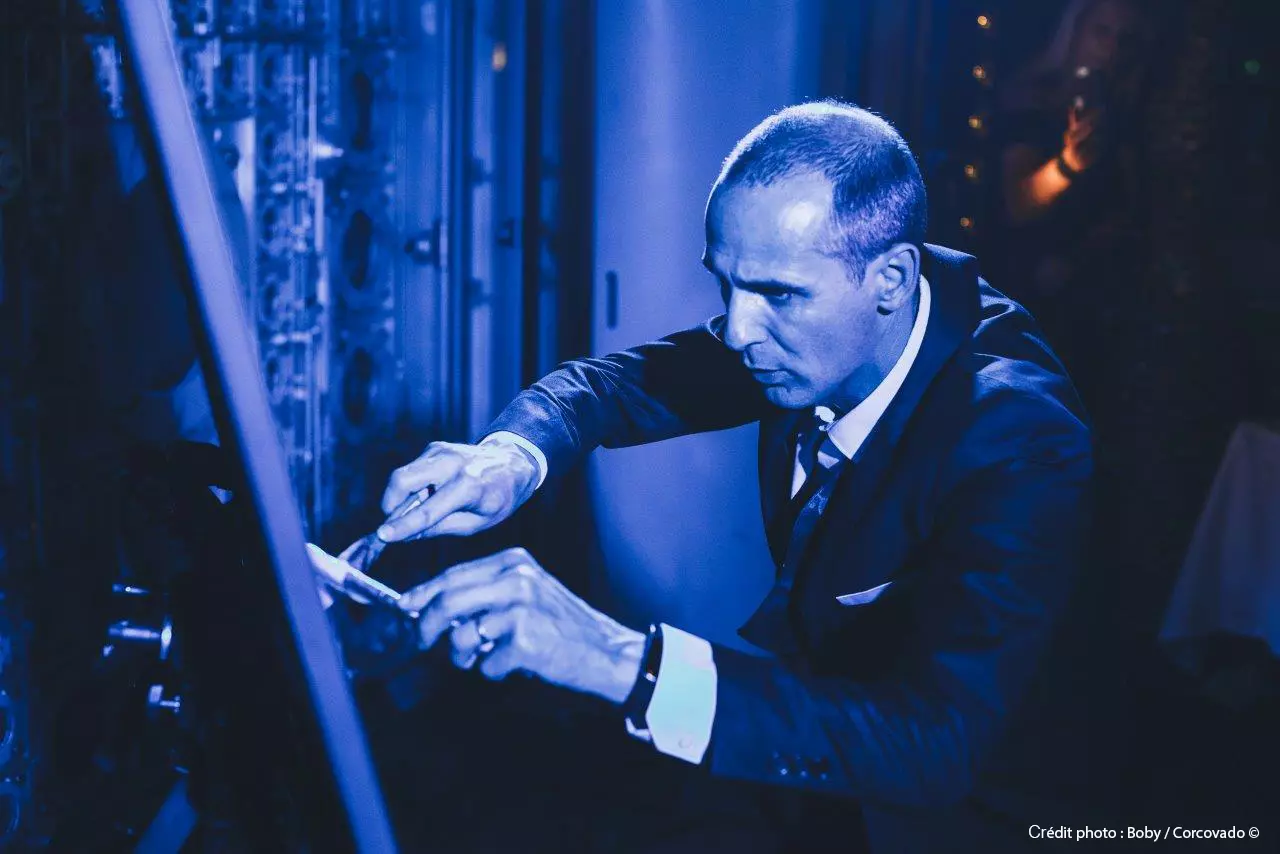 Apply this performance ad infinitum…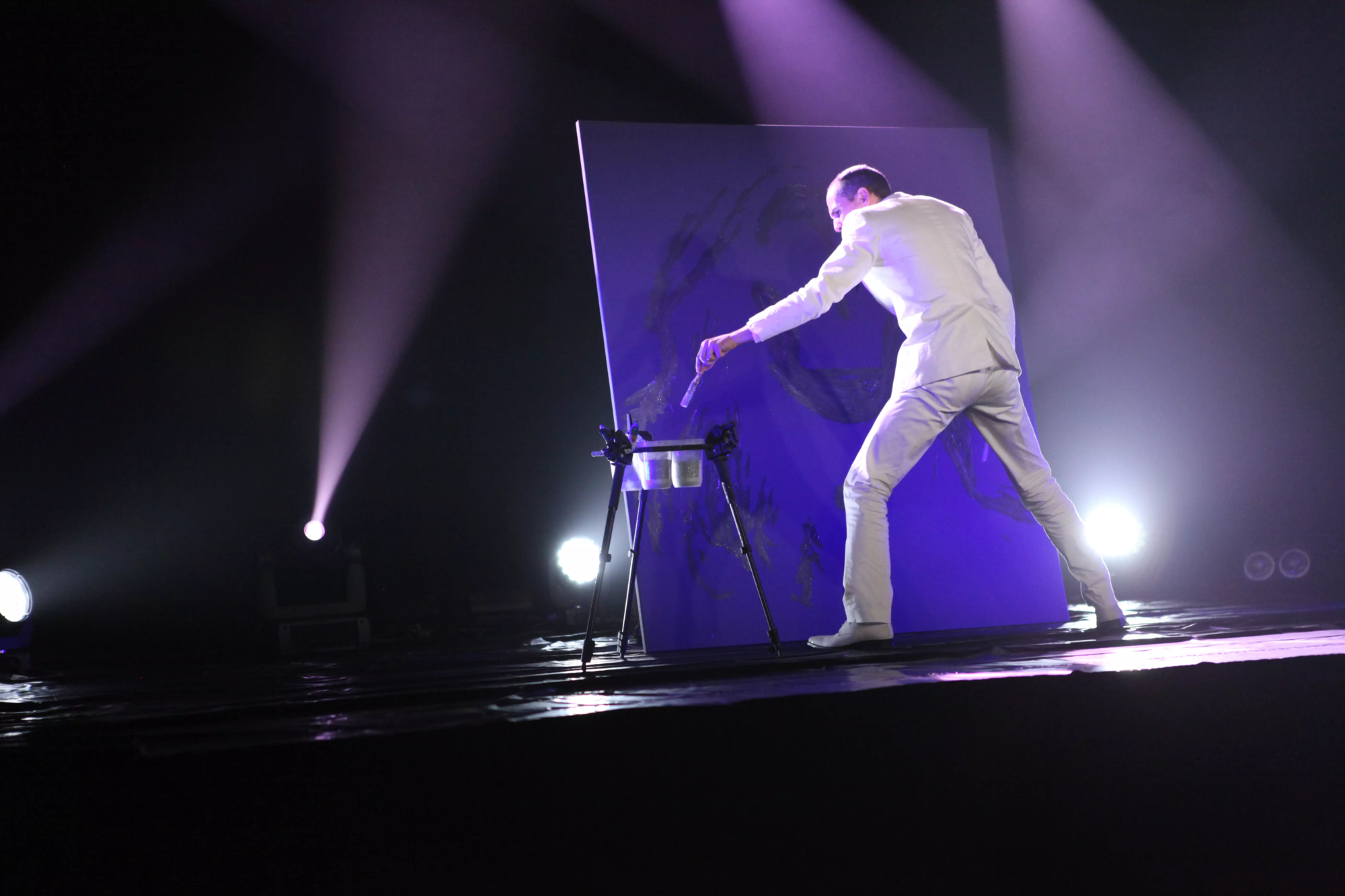 For professionals and institutions
This show can be part of or the main attraction at your convention, congress or seminar. It can also be used to unveil a new product, for an inauguration or to honour someone at an awards ceremony or retirement party.
Or for private and family use
This live painting performance is an impressive surprise for your guests. It's also a highly original gift idea for a wedding with a portrait of the couple, an anniversary, a christening or a garden party.
10,400 followers and over 3,900,000 YOUTUBE views
The EriK BLACK Painting YouTube channel features numerous videos of the artist's live shows. Here you can discover some of the events that have marked his career and contributed to his reputation.
At festivals, awards ceremonies, charity evenings and corporate parties, EriK is invited to create a live glitter portrait to honour a celebrity present at the event.
Live painting performances in 24 countries
EriK BLACK is a French performance painter who exports his art to every continent. To date, he has performed at public, private and corporate events in over 24 countries.
+ More than 2,200 works produced live
+ More than 350 workshop orders
+ More than 15 TV programmes worldwide
+ More than 850 private and public events
+ More than 2,200 works produced live
In his portfolio, EriK BLACK presents a selection of works created live at public and private events around the world.
Discover the artist's work
Immerse yourself in the artistic world of EriK BLACK through his works.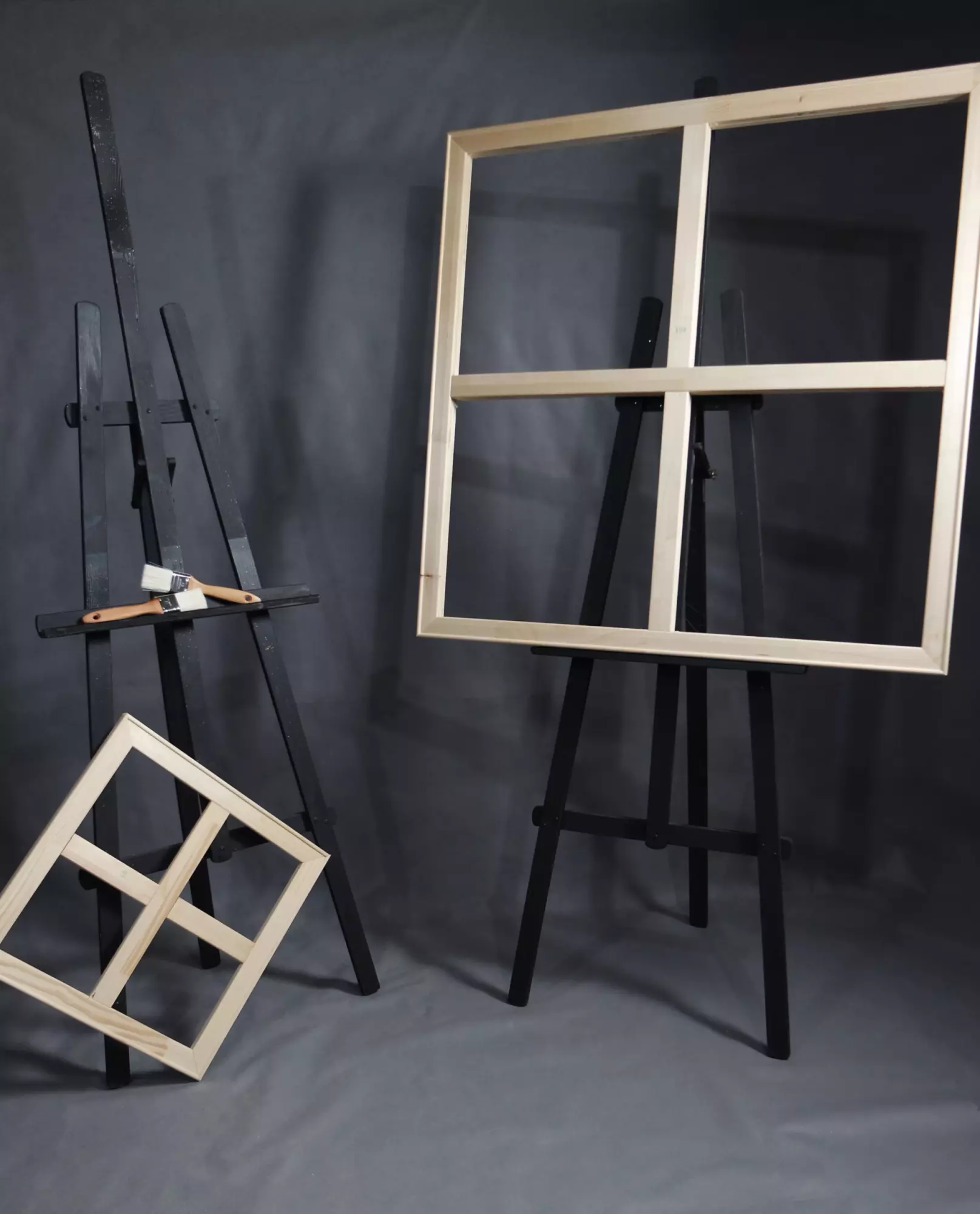 Order your custom-made contemporary painting
From a choice from a catalogue to a design based on your photos, the artist will create your made-to-measure order. You can also choose the size of your canvas or the colour of your paint or glitter to create a contemporary painting that's uniquely yours.
Personalising your painting will make it unique and reflect your own identity. The workshop is open by appointment.
EriK BLACK will be delighted to welcome you to take your personalised order and show you the original paintings currently available.
Thank you EriK BLACK for your superb performance at the wedding of my daughter Cindy and her husband Jonathan.
All the guests were amazed, as were the bride and groom by the surprise.
And thank you for your kindness and for keeping your jacket on until the end of the service despite the scorching weather 👍😂
All the best to you.
Laurence Sauvage et Nicolas (Private event)
We called on EriK BLACK to open the cultural season, which also marked the venue's 20th anniversary.
Everything went perfectly, and the artist's performance was of the highest quality, much appreciated by the audience.
Espace Culturel Lucien Jean (Cultural)
We called on Erik for a cosmetics event and his performance was magnificent. In addition to his kindness and flexibility, he has an incredible talent and delighted all the participants.
I'd recommend it 100%! Thanks again!
Lola Réau (Events)
Grandiose! impressive. Erik is very kind, flexible and professional. He gave an impressive performance at one of our events.
DBF AUDIT CHARTERED ACCOUNTANT
(Company event)
Book your live performance